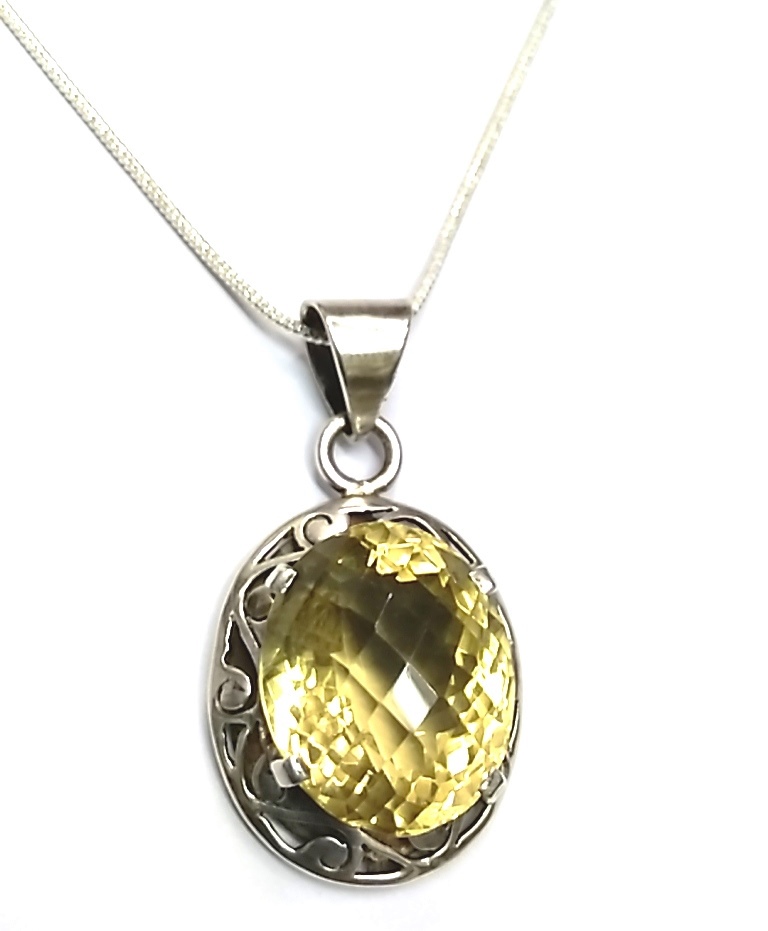 Beautiful Natural Lemon Quartz Chequred cut Gemstone in handcrafted Silver Pendant artistically designed. Available online from Mahavir Gems


HANDMADE NATURAL Lemon Quartz gemstone in 925 SILVER PENDANT ~ 9.500 Gram NEW Arrival
Lemon Quartz is also commercially termed as Lemon Topaz.
SAVE SHIPPING AND HANDLING CHARGES BY BUYING MULTIPLE ITEMS.
IF YOU REQUIRE SOMETHING WHICH YOU FAIL TO FIND IN OUR STORE, THEN PLEASE WRITE TO US, WE WILL TRY TO LIST THAT PRODUCT IN OUR NEXT LISTINGS OR WILL GET IT MANUFACTURED SPECIALLY FOR YOU. WE ALWAYS WELCOME VARIOUS QUERIES IN ANY GEMSTONE AS WE ARE THE LEADING SUPPLIER OF AROUND 60 TO 70 GEMSTONES BEADS, BRIOLETTES, CHIPS, ROUGHS, JEWELERY KIT, PEARLS, & JEWELRY.
Photographs are zoomed to get minute details as possible, shades & hues of the color may slightly differ from the actual product on the basis of individual screen settings of your computer Monitor. Approximately taken in the natural light to show the maximum actuality of the gemstone.
Have any questions? Contact the shop owner.
Gemstones
Gem Cut
Oval Chequered Cut
Gem Color
Lemon Yellow
Gem Clarity
Almost Loupe Clean
Jewelry
Jewelry Type
Artistic handmade natural lemon quartz pendant in Silver
Jewelry Gross Weight
9.500 Gms
Gemstones Used in Jewelry Details
Lemon Quartz ( Lemon Topaz) Chequred Shape weighing 23.90 Carats
Natural Lemon Quartz Chequred cut Gemstone in Silver Pendant
Product Code: BhoLemonQtzOvCheqPen01
Availability: 1
₹13,499.00

₹8,999.00

Ex Tax: ₹8,999.00
Related Products
Tags: Natural Lemon Quartz, Lemon Topaz, Pendant, Sterling Silver, Handcrafted, astrological pendant, birthstones, gemstones, jewelry,
Specials