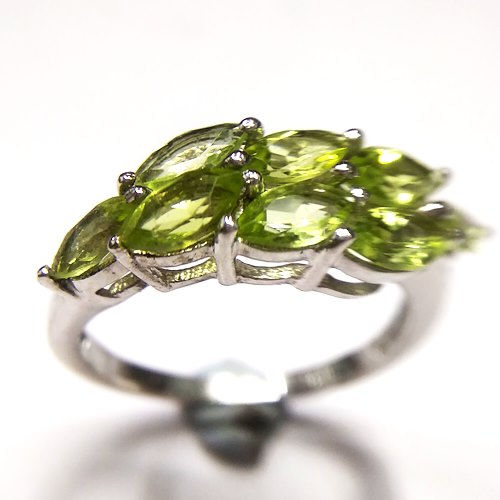 Artesian Natural Navette / Marquise Shaped Peridot ( Trade Name Evening Emerald ) Ring hand crafted in Sterling Silver by Mahavir Gems.
Beautiful & Bold mesmerizing Natural Olive Green Peridot in Marquise / Navette Shaped set in handmade sterling silver Ring,
Crafted in India with Natural Gemstone Marquise / Navette Shaped Natural Olive Green Peridot hand set to perfection sterling silver.
All our Designs are original and we believe in respecting & preserving arts. Give it as a gift or you can wear your self. Hope you cherish our designs. Be Cool and different. Enjoy!
Material : .925 sterling silver.
Gemstone: 8 Pcs Marqusie/ Navette Shaped Natural Olive Green Peridot,
Beautifully gift boxed ,Handmade with LOVE
Ring Size : Indian 14 / US 7
Peridot also known as olivine/ Evening Emerald or zabardast (in Hindi) is considered as the substitute astrological gemstone for natural Emerald or Panna or Pachu and is used for receiving the energies of the planet Mercury/ Budh. It is the astrological gem/rashi ratna for the zodiac signs of Gemini (mithuna) and Virgo (Kanya) – the signs ruled by the planet Mercury.
#Peridot #Jabardast #olivine #evening #emerald #panna #pachu #mercury #budh #rashi #ratan #ratna #gemini #mithun #mithuna #virgo #kanya #Navette #Jewelry #Ring #ladies #jewellery #green #olive #pastel #faceted #certified #gemstone #online #buy #deal
Gemstones
Gemstone Variety
8 Pcs Natural Olive Green Peridot
Gemstone Species
Natural Olive Green Peridot Trade Name Olivine / Evening Emerald / Jabardast
Gem Cut
Marquise / Navette Shaped
Gem Color
Olive Green
Gem Clarity
VVS1
Jewelry
Jewelry Shipping Weight
250 grams
Jewelry Type
Natural gemstone Ring in Sterling Silver
Jewelry Gross Weight
Approx 3 grams
Gemstones Used in Jewelry Details
8 Pcs Natural Olive Green Peridot
Other details for Jewelry
Ring Size : 14 / US Ring Size 7
Natural Peridot Ring in Sterling Silver
Product Code: NSilRing118Peri
Availability: 1
₹6,500.00

₹5,550.00

Ex Tax: ₹5,550.00
Related Products
Tags: Sterling Silver; Natural Gemstone; Certified Gemstones, Jewelry online; jewellery online; Natural, Olive, Green, Peridot, handicraft; handmade; Mahavir; Gems: mahavirgems; cheap;beautiful; modern; elegant; western; bvlgari; bellari; online; reasonable; designer; certified; gems; birthstones; astrological; Citrine, Ring, Sterling Silver, Hand Crafted, 925, US 7, Ring Size, Ring Size 14, Peridot, Jabardast, olivine, evening, emerald, panna, pachu, mercury, budh, rashi, ratan, ratna, gemini, mithun, mithuna, virgo, kanya,
Specials