Coral / Marzan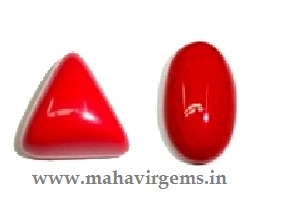 For all sorts of genuine, certified & authenticated natural corals for your astrological purposes, the only trusted source on internet.
Please feel free to contact us if you fail to find your required size or specification of any gemstone.
Coral (Moonga in Hindi ) is a gemstone of planet Mars. Alike Pearl, the basic chemical composition of Coral is also Calcium Carbonate.
Corals are available in many colors, but astrologically three colors vermilion, red, and white color corals are prefered. The Coral is basically formed with the assemblage of colonies of the tiny sea creatures.
It looks like an underwater colorful plant but in reality, they are gelatinous marine animals called polyps. Red corals are organic gemstones
formed out of skeletons of individual polyps depositing together to make a colony. The remarkable characteristic of precious Red Coral Gemstones is their durable nature and intensely colored red or pink skeleton, which is commonly used in jewelry making. The red coral stone is naturally matte but can be polished to a glassy shine. The color ranges from warm reddish pink, pale pink to deep red. They are also found in other colors like, scarlet, blue, yellow, saffron, coral red, pink to vermilion red and white.
The original coral is found in Mediterranean Sea at depths from 10 meters to 300 meters.

As per Hindu Mythology, Red coral Gemstone is believed to nullify malefic effects of Mars or Mangal Graha and to please him. Mars being the god of war and energy is the commander-in-chief of the assembly of the nine planets. His red color is the symbol of blood and perseverance in human life. He is known as "Angarak" and the son of the earth due to his its nearness to the earth. It is considered malefic planet in astrology and gives its natives the ability to put their own desires above those of others. The Gemstone related to Mars is Red Coral or Lal Moonga.
Benifits of Red Coral
The benefits of Red coral Gemstone have been known for ages and it has been put to a variety of use since then. The Romans believed that Red Coral Stone benefits children in wounds caused by snakes and scorpions.
Benefits of Red Coral Gemstone are apparently visible if worn by soldiers, police officers, electricians, surgeons, players and workers of ordinance factory. It is useful for enhancing self-confidence, administrative capability and the power of utilizing the rights in social and political spheres. Benefits of wearing Red Coral bring value in deals involving buying and selling of land and properties.
The temperament of corals is considered hot. The Red Coral Gemstone benefits are known to create many virtues in the wearer like, perseverance, courage, and the ability to face and solve troublesome circumstances. It also removes obstacles in the way of their fortunes and increases their influences. It also brings forth the bliss in a married life.
Red coral Gemstone prevents abortion, fever, piles, impotency, typhus, smallpox etc. Children can be saved from diseases like rickets and stomachache, by wearing the red coral beads or malas around their necks. Red coral also cures knee problems, arthritis and rheumatism.
Precaution for Coral
Due to their organic nature, Coral gems are both soft and porous and should only be wiped clean with moist cloth. Special to extra special care should be given depending on dye used. Avoid chemicals, cosmetics and ultrasonic cleaners. Avoid contact with hairspray, cosmetics or perfume.
---