Citrine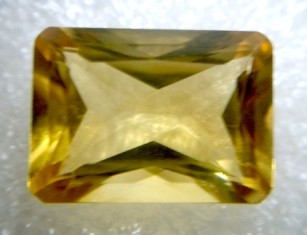 Citrine Gemstone: Its meaning
Citrine is a pale yellow-to-golden coloured member of the quartz mineral group. A deep golden variety from Madiera Spain can resemble the costly imperial topaz gem stone, which is one reason that citrine is a popular birthstone alternative to those born in the month of November.
Citrine has also been called the "stone of the mind". Ancient cultures believed that placing a citrine on the forehead of an elder would enhance his psychic power.
Money generator power of citrine
Citrine is known as the lucky "Merchants Stone". If you are in any type of sales, just put a natural citrine gem in the cash drawer and watch what happens. Also used by healers to:
increase self esteem
protect from the negative energy from someone else's abuse
open the mind to new thoughts
promote clarity of thought
Healing properties of citrine
Citrine is sometimes used by healers to help with digestion as it is considered beneficial to the endocrine and digestive system - cleansing, purifying and eliminating poisons that have built up. Citrine is an excellent stone to calm and soothe distressed conditions. Some use it to help relieve depression, digestive problems (including constipation and diabetes). It will give joy and love to the owner.
Sources of citrine
Sources of citrine include Brazil, Bolivia, U.S., Burma, several African countries and parts of the Soviet Union.
OTHER FACTS / BELIEFS:
Citrine is well known in crystal work as a success and prosperity stone to the point that it is called the "Success Stone." It is said to promote and manifest success and abundance in all areas, and in many ways. It is particularly used to promote success in business if used in the cash box of a shop, carried or worn, earning it another nickname, "Merchant's Stone." In addition to manifesting abundance, citrine also brings energies of generosity so that the prosperity and success is shared.
Citrine is a solar plexus chakra stone used metaphysically to increase, magnify and clarify personal power and energy. This increased personal power can be used for the focused intent of the individual, as it brings will power as well.
Citrine is a fabulous stone to use to combat negative energy of any kind by breaking them up and dissipating them. It is helpful to clear unwanted energies from the environment, whether it be home, office, car, or other space indoors or out. Family issues caused by negative energies can also be cleared for resolution with citrine. Citrine is also a stone that brings hope. Since citrine eliminates negative energies, it is good for protection in general and helps bring stability energetically.
Citrine also does not absorb any negative energies from its surroundings, and thus never needs energetic clearing.
Because citrine can clear negative energy and influences from the aura, it is useful for meditation, psychic awareness, and spiritual development. By removing unwanted energies it paves the way for this spiritual and psychic growth. It is also excellent for dream recall and dream work.
In the mental arena, citrine enhances mental clarity, confidence, and will power. The mental clarity and confidence support bringing increased creativity and honesty.
#Citrine #gemstone #gemstone #meanings #properties #online #purchase #certified #gems #mumbai #yellow #Quartz #Sunehla #sitirne #mahavirgems #mumbai #india #certified #astrological #sunela #sunhela #sunelha #sunelah
---